- CHANEL MAKEUP CONFIDENTIAL -
What in the world is this doing here?? :D I made a tutorial on how to view movies in a Linux terminal
HERE
. The original video I used for this is '
Chanel Makeup Peter Philips Animated VIDEO
' on youtube. Here is the same movie playing in my Linux terminal - ASCII style:
Sooo.. I liked the Chanel animation so much that I made myself a wallpaper featuring the robots; 1920x1080, white, pink, or light pink background. I thought there might be that one person that likes it so why not share it; can download
HERE
. :)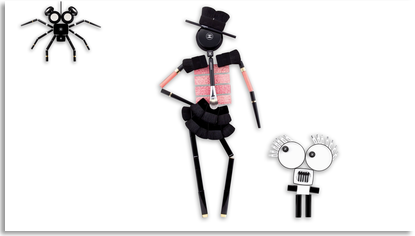 I changed my desktop theme to white, black, gray and pink and made a png icon of each robot for my toolbar. Download all three
HERE
.



Furthermore I found a simple screen saver someone made for Windows and Mac based on it. Below is a screenshot of it, and
HERE
is an .swf showing the entire screen saver - not much to it unfortunately. Download
HERE
.
Tip: To take a screenshot of a screen saver - open the preview of it, then press key 'Prt Scr' (print screen). It will be copied to your clipboard, open a graphic program, File new, paste it in. //---------------------------------------------------------------------- If you find mistakes, have suggestions, and or questions please post at mewbies forum
HERE
- thank you. Last update on 17 Apr '13
- mewbies.com -